NOT SUITABLE FOR TWINSTAR 1200S
ONLY UPTO 900S
Product Details
| | |
| --- | --- |
| Input Voltage: 5-24V DC | Wi-Fi Control: Control lights with Phone, Voice Assistant or other networked devices. |
| Connection: 2.1mm Male & Female Plug | Smart Control: Save lighting presets, timers and control all your lights from one APP. |
| Max Output: 8A | Voice Controlled: Works with Alexa, Google, IFTTT. |
| Wi-Fi Requirements: 2.4gHz Network | Dimming Signal: Pulse Width Modulation (PWM) |
Description
Single color Wi-Fi LED controller for LED strip lights. Harness the power of smart lighting technology with this simple Wi-Fi receiving unit controlled via a free App for both iOS and Android users. Turn any LED strip light into a smart light without the crazy cost of connected lighting.
This Wi-Fi dimmer is packed with features, all geared towards making your home life easier.
Alexa (Amazon Echo) and Google Home Compatible
Control your lights by voice with Amazon or Google voice assistants. Accepts commands to turn on/off or to dim/brighten specific lights in your house.
Timer Functions
Schedule lights to turn on/off or change brightness at certain times. Great for scheduling your lights to match your day.
Control different zones of your House
A single phone App can control numerous Wi-Fi controllers and lights. You can group lights in the same room and control different rooms/zones of the house at once or control all lights individually.
Works with Smart Things
Not only does it work with voice assistants, this also works with IFTTT so that your lights can react according to other apps. Flash your lights when you receive a text, turn on the outdoor lights when Dominos is delivering…the opportunities are endless.

Easy Installation and Setup
The power-source plugs into the input of the dimmer (labeled '5-28V') and the output of the dimmer (labeled 'Output') plugs into the beginning of the strip. The plugs are common center positive 2.1 barrel style, which mates well with most of our power-supplies or screw-in terminal plugs.
To setup with Wi-Fi network and Phone App, follow instructions below.
The product manual has two QR codes, one for the most recent product manual and one for the App download. If you are ready to pair the controller, scan the App QR code or search for 'Magic Home Pro' within your App Store.
In order to use Wi-Fi control, make sure you are using a 2.4Ghz network.
After APP is installed, sign into or create a Magic Home Account.
Allow location services
Click Add Device '+' within App
Select network for LED controller (LEDxxxxxx)
Wait for App to connect to controller, once it does follow App prompt to switch Wi-Fi to controller network and then return to App.
Select Router Wi-Fi network and enter the password when prompted.
App will connect the controller to the Wi-Fi network and you are all set.
For more specific instructions on troubleshooting or setting up with Google Home Assistant or Amazon Echo, see the full product manual below.
Technical Documentation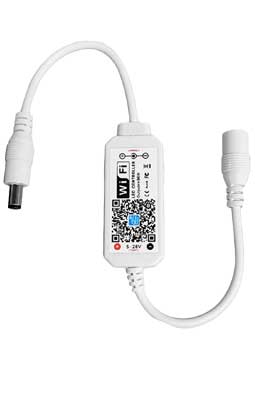 Input Voltage: 5-24V DC
 Max Output: 96 Watts
 Works with: LED strip lights and other constant voltage LED lights.
 IP Rating: IP20
 Certifications: CE, RoHS, FCC
 Dimensions: 53 x 24 x 11 (mm)